Implantable cardioverter-defibrillator (icd)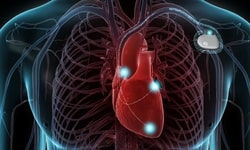 Submit Abstract
Register Now
A small battery-powered device called an implantable cardioverter-defibrillator (ICD) is implanted in your chest to detect and stop irregular heartbeats (arrhythmias). An ICD continuously monitors your heartbeat and, if necessary, administers electric shocks to restore normal cardiac rhythm.
Types:
An implantable cardioverter defibrillator (ICD) is a type of cardiac treatment device. There are two fundamental types:
The wires (leads) of a typical ICD are attached to your heart and implanted in your chest. Invasive surgery is required for the implant procedure.


Another alternative is a subcutaneous ICD (S-ICD), which is inserted beneath the skin on the side of the chest, below the armpit. It's connected to an electrode that goes down the centre of your breastbone. S-ICDs are larger than standard ICDs, but they are not attached to your heart.


Related Conference of
Implantable cardioverter-defibrillator (icd)
Implantable cardioverter-defibrillator (icd)
Conference Speakers
Recommended
Sessions
Related
Journals
Are you
interested

in